FLAMES is a

thrash metal band,

which was created by Chris Kirk 1984. Since then they have released many albums and they have participated in many gigs as headliners or guests often next to great bands.
At the moment the band is active and never stopped working over new music tracks, preparing its new album.
The band lives between Athens Greece and Munich Germany. FLAMES (since 1984) have changed their form several times but the Kirx brothers are the core.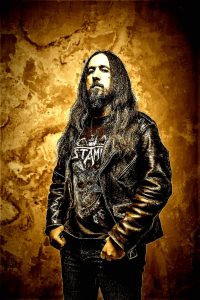 NICK SAMIOS (Drums
SPECIAL THANKS
---
FLAMES would like to thank all the ex-members who participated in this music journey since 1984.
Vocals:
Nigel Foxxe (1985-86)
Tom Trampoyras (1991-1992)
Flo Gebhardt (1993 – …. our brother and eternal honored member of the band)
Guitars:
Athan Skitsos (1987-88)
Tassos Spiliotopoulos (1996-97)
Drums:
George Andreakos (1985-eternity)
Also the great friends and musicians we met on stage in so many live shows.
Ted Pope bass (1985), Hlias Pavlioglou bass  and George Papageorgiou drums (1991-1992), Aggelis Georgiopoulos vocals and Michael Vazeos drums  (2000-2002), Alex K. drums (2010-1012)